Article
Family Time
11/28/2018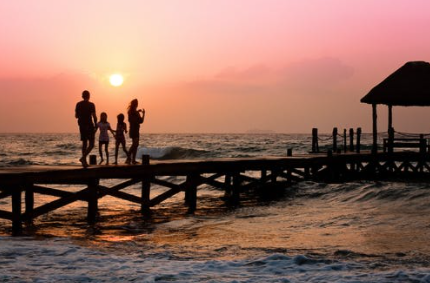 I was born in Taiwan, with 8 siblings, being the sixth child. I was once envious of other families where there was only one child. During my time growing up, chores needed to be done, food needed to be divided, and also younger siblings needed to be looked after. As time passed, I realized that God gave me a family environment that is unique, because He created me. He knows which areas need to be worked on so my life becomes a living letter to the unbelievers. Thus, I vowed to be grateful from the heart and build a new family with love alongside my husband.
In 2007 my family and I moved to Canada. Regardless of where we lived, I was frequently asked how I was able to achieve harmony in a family of four children. My eldest daughter is in graduate school, my second daughter is graduating from university next year, my first son is in high school and my younger son is entering high school next year. There is nearly a decade separating my daughters from my sons. The two daughters' native tongue is Mandarin, with English as a second language while my two sons' English is their language of choice when communicating with Chinese as a secondary language.
As for my husband and I, raising four children is fraught with many challenges and admiration for God, receiving much valuable experience and making my life more abundant. It made us mentally strong, not easily given to emotions, and able to be calm in decision-making under most circumstances. What is our secret? It lays with our regular Family Time, allowing family members to co-participate and learn from one another, accept each other, and build a family where each member is uniquely loved.
Using the Heart to Manage A Family, Building A Joyous Home
When we talk about Family Time, it's mainly about gathering the family time and use natural, relaxed, and multifaceted ways of sharing slices of life, enhancing the family relationships, thus building a sturdy communication channel.
20 years ago while my eldest daughter was in kindergarten, I read an article which mentioned managing time spent with family. At that time, I started to implement Family Time within my home. It has become a regular fixture of our family ever since. My children always were enthusiastic about each session, eagerly anticipating Family Time each week.
Many parents when they meet rebellious teenagers don't know how to deal with the situation. I encourage parents to be diligent in preparation for the tumultuous teenage era by building good robust communication channels. Using my family as an example, when we first started, it was sometimes difficult to maintain the momentum; however, as my husband and I mutually encouraged one another, we learned to make it a regular part of our life.
I discovered that, as long as we have heart, it will always not be too late. Family Time can lead to great impacts, unwinding troubles that my family has to deal with during different stages in life, letting us experience "sharing multiplies joy, a shared load is much lighter". Especially with teenagers, regardless of community, school, social activities, or within the home, the time spent with adults is most often decreasing; it made me truly feel that in the modern family, it requires dedication to manage Family Time and using the heart to bind the family together, letting the parents become role-models for the children to learn and pass on from generation to generation.
Family Time's Five Secrets to Success
Our Family Time lasts thirty to forty minutes, once per week. I think Family Time can be successful when the following principles are followed:
Parents need to be prepared: Inexperienced parents may not know how to build regular Family Time. I also went through similar stages, having to make multiple breakthroughs until Family Time becomes a regular part of my life. Commonly, according to the children's age, the preparation material and topics will vary. For example, The Appreciation Game is a good way for families just starting out. American and Chinese readers may ask to purchase it at their local Christian bookstore. I highly recommend this Chinese/English communications game as it is an amazing tool for building relationships, as we can use the game to draw each other closer and share meaningful insights. You can also integrate self-designated questions into the game, making the game customized for your needs.

Every family member must participate: Self-motivated participation will encourage interest. We usually hold Family Time after Saturday dinner, every family member looks forward to this time each week. Sometimes we share the favorite praise songs we heard, our favorite Bible verses, or our thoughts and feelings on the Bible or praise songs, It makes the ups and downs experienced by a family member a shared experience and shares the joys, sadness, and suffering amongst family members, making life lessons a happy time.

Longevity and Dedication: When there are family members who cannot or do not participate, those that are present should worship with one heart and pray for the absentee. When we have visitors, we would also invite them to join, as this is an opportunity for testimony. Family members need to encourage one another, even when there is an interruption to the regularity, we can resume anytime. The husband and wife need to help one another, if one of the spouses isn't a follower of Jesus Christ, it is alright to invite the other, but don't force it.

Multiple Formats: Family Time doesn't have to follow a strict format every time. It should be varied to increase everyone's interest. For example, we had one session where each one shared a song that they like and relates to their name; even when your family is out of your home, you should try to have Family Time. During Family Time, we would share our feelings in the past week, sometimes we confess our sins to one another and ask for forgiveness. We discussed things big and small, praying with one heart, and making decisions. For example, whether to take talent classes, making house rules, how to divide up the house chores, travel plans and the division of pocket money, how long to play computer games and even an open vote on whether to have a fourth child, what name to give him, and whether to immigrate to Canada. We will share our joys and down times of the past week; we also shared our recent thoughts on the Bible verses we've read. When family members have different thoughts and opinions, Family Time becomes our family's best communication channel. When a child has the opportunity to learn to express and listen to different voices, the challenges one faces in life becomes something which Family Time is open to for discussion. Because of the good relations maintained on a daily basis, even apparent crises become manageable, allowing us all to experience "God is the head of my household".

Caring for the World Around Us: Sometimes we will pray for the missionaries. There is a mission map clipped to a magnet on our family fridge, printed with missionaries' location info. We would pray and dedicate pocket money to different missionaries during Family Time sessions. Sometimes we pray for children living in poverty, trying to understand where they live and how they're growing.
Start From the Heart
Though the society looks to be declining with every passing moment we still shouldn't lose hope in God, believing firmly that His will is to create more healthy families for His glory, using life to affect life, families to affect families. Regardless of where we originally grew up or whether we are satisfied with our current family, we need to manage our families with dedication, then the family atmosphere will change, this society will change, this era will change. Let's start with our heart!